Visual Novels
Even though I love anime, I love visual novels much more. They're such an immersive experience and I always remember seeing dating sim CGs (usually by Key/Visual Arts) around the web when I was younger. Katawa Shoujo was the first dating sim I played in full, but watching Kanon and AIR in high school is what really introduced me to the genre.

Currently playing: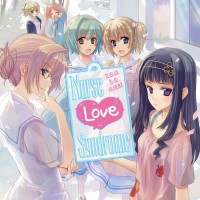 Nurse Love Syndrome
by Kogado Studio, published by Degica
Routes completed:
Nagisa
So excited to play the first game in the series of one of my favorite visual novels,
Nurse Love Addiction
. I'm loving it so far, although unfortunately I haven't had much time to play it. It's honestly unexpectedly cozy? I love the slice of life aspect and learning about daily tasks nurses usually take on (although it definitely lowers your guard for when shit really starts going down). Will share more thoughts as I continue to play through it!

Other visual novels I've played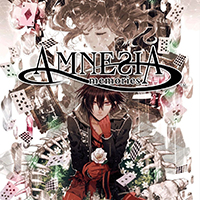 Amnesia: Memories
by Idea Factory
I've actually never played a dating sim with boyz before, because I prefer cute anime girls, so I guess this was Babby's First Otome game. I bought
Amnesia: Memories
in the Steam summer sale last year but only got the chance to play it recently. The premise is pretty simple: the main character just got amnesia and has to go through her surroundings and make choices that'll help her regain her memories. I would recommend doing the routes in the recommended order (Spade World, Clover World, Heart World, and Diamond World) because I went out of order and it definitely made my experience a little less enjoyable once I started doing the other routes. They're all pretty solid though, especially the secret route you unlock once you finish all of them! Also the character designs are all very edgy, so I wasn't surprised when I found out PUTUMAYO did a collaboration with them. My favorite character is Kent because I love emotionally stunted boys with glasses who are doing their best.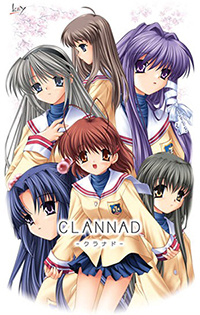 CLANNAD
by Key/Visual Arts, published by Sekai Project
Routes completed:
Fuko, Sunohara, Misae, Kotomi, and Kyou
I think by now, most people have watched Kyoto Animation's anime adaptation of
CLANNAD
. (I would like to also take this moment to honor Kyoto Animation and the many talented individuals who tragically died in the massive fire set on their studio). The anime is extremely beautiful, well-done, and emotional. While I'm enjoying the VN, the anime of
CLANNAD
is still superior to me.
CLANNAD
follows Tomoyo Okazaki, who is a delinquent without any purpose or guidance in life. When he meets Nagisa, a socially awkward girl who doesn't have any friends and desperately wants to start an acting club, everything changes for him. One of the biggest themes of
CLANNAD
is family, and that's seen throughout almost all of the character's stories, which cover all different types of families and relationships. It's basically the perfect story if you want feels and enjoy crying.
I'm always lowkey playing
CLANNAD
because it's SUCH a long game. I bought it in the Steam sale a couple of years ago and I'm still slowly making my way through it. I watched the anime back when I was in high school/college and absolutely loved it, so I was really excited when it got an official translation. Kotomi's route is easily my favorite - it just captures everything I love about Key's stories. I'll probably do Tomoyo's route next so I can finally get around to playing Tomoyo After.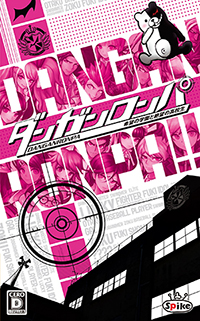 Danganronpa
by Spike Chunsoft
I think most people are familiar with
Danganronpa
but now, but if you aren't, it's a visual novel where ~15 students (who are all renowned and have unique talents) are trapped in their school and are forced to kill each other in order to escape. While it shares the same general, basic premise of Battle Royale, what sets it apart is that whenever a murder is committed, there is a "class trial" to find out who the murderer is. The "blackened" can only escape if they get away with their crime and aren't voted guilty. I think the mix of light gameplay with standard visual novel fare makes
Danganronpa
such a great game.
I watched the
Danganronpa
anime back when it came out in 2013, because it was all over the internet at the time. I had previously tried playing the visual novel on my MacBook but Wine didn't want to cooperate with me. So I watched the anime, liked it, and moved on. I'm really glad that I not only eventually bought a Windows computer (said no one ever), but that I snagged the first two
Danganronpa
games in the Steam sale one summer. I finished the first one in about a week or two because I couldn't put it down, even though I already (mostly) knew what was going to happen because I'd watched the anime. It's so incredible and atmospheric, the art style is fantastic, and I really love most of the characters. I'm also a nerd for true crime so it was really fun to do murder mysteries in the form of a visual novel. Out of all the
Danganronpa
games (which I'll be writing about soon), the first is actually my least favorite, but it's still a great game. It also features the introduction of my favorite character,
Junko Enoshima
!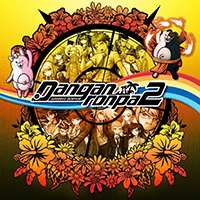 Super Danganronpa 2
by Spike Chunsoft
Monokuma is back and forcing a whole new class of talented students to play a killing game, this time on a tropical island. Once again, the characters are interesting, relatable, and easy to get invested in. I picked up and played
Super Danganronpa 2
about a week after I finished the first one, and finished it almost as quickly. Out of all the games, I have to say that
SDR2
is my favorite. The soundtrack is (obviously) very similar to that of the first game, with a few new tracks (like
Miss Monomi's Practice Lesson
) as well as a few remixes that are all super catchy. All of the DR games are incredibly atmospheric, but
SDR2
really stands out because it immerses you on a beautiful, tropical island, which makes the killing game even more horrifying. It also has Ibuki Mioda, one of my favorite characters in the series! The character designs overall are also pleasing to the eye and use vibrant color palettes.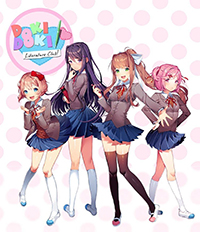 Doki Doki Literature Club!
by Team Salvato
I think it's almost impossible to talk about visual novels nowadays without mentioning
Doki Doki Literature Club
. I feel like it really changed how the public sees visual novels, especially dating sims. It's basically one huge subversion. And while it's easy to parody or pick apart tropes,
DDLC
does it in a way that makes it really stand on its own. Without spoiling anything, the game is not what it seems and there's a lot more than what's under the surface. I also just love how Monika's hairstyle is a brunette/red? version of Misuzu's from AIR, which I thought was a nice reference.
Spoilers for those who haven't played it yet:
What I really love about DDLC is how deep the lore goes and the amount of detail that went into creating it. Not only are there tons of Easter eggs in the game proper, but files will appear and disappear in the game's install folder depending on what's going on in the story, which is creepy af. I'm lowkey hoping that Team Salvato will come out with a sequel that expands on some of the lore that was teased in these files and other small references throughout the game.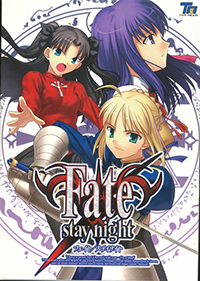 Fate/stay night
by TYPE-MOON (no official translation)
I started noticing how huge
Fate
was last year and finally got around to playing the VN. I thought it was weird that a VN released in 2004 was still so popular - that was before I knew how HUGE the franchise is and that there are a million different animes, mangas, games, light novels, and mangas. (I'm probably missing something there too.) But anyway,
Fate/stay night
originally had my interest because it's a dating sim, but the overall concept and story hooked me. I fell in love with the characters too. Basically, there's a Holy Grail War where mages fight each other using Servants, who are legendary heroes from the past. Servants (typically) fall in one of these 7 classes: Saber, Archer, Lancer, Rider, Caster, Assassin, and Berserker. My explanation sucks but maybe it'll convince someone to check it out (and play through the ~100 hours it takes to complete the game). There are 3 routes that make up
Fate/stay night
: Fate, Unlimited Blade Works, and Heaven's Feel. The Fate route is my favorite, as I really how it introduces you to the world and develops Saber's character arc. Unfortunately, Fate hasn't really received a proper anime adaptation that explains everything (the 2006 anime doesn't count). While there's an anime series for Unlimited Blade Works and a series of movies coming out for Heaven's Feel, there are definitely some important things that are missing.
If VNs aren't your thing though, I recommend checking out ufotable's adaptation of the Unlimited Blade Works route. It's absolutely fantastic. But
Fate
has now pretty much just become a huge franchise where people spend hundreds of dollars in a gacha game to get their waifu, thanks to
Fate/Grand Order
. FGO is an entirely different animal and I'll probably cover it at some point, as I consider it a type of "honorary" visual novel.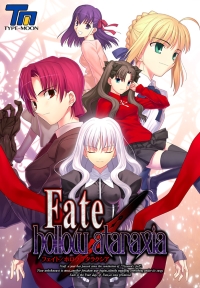 Fate/hollow ataraxia
by TYPE-MOON (no official translation)
This is the sequel to
Fate/stay night
and thankfully it's also not ~100 hours long. However, for some reason, it still took me a solid 2-3 months to get through. There were some parts that were really slow (namely, an entire 2-3 hour long scenario with Himuro) that made it a chore to get through at times. However, the gameplay is really cute - it takes place over a series of four days and you pick which characters / scenarios you want to interact with. All of the scenes are basically like really short fanfictions and are very slice of life. I was glad to see more of my wife Rider being cute and also a predatory gay. My other favorite part was finding out that Caster is a Karen because now she's pretty much a housewife that always hangs around in the shopping district.
Amidst all these short scenes, though, was an actual storyline that I found to be interesting, although not as compelling as its predecessor. Honestly, especially with how the game actually ended, I would probably only recommend
Fate/hollow ataraxia
to hardcore fans of Fate/stay night.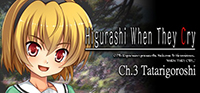 Higurashi Chapters 1 to 3 (Onikakushi, Watanagashi, Tatarigoroshi)
by 07th Expansion, published by MangaGamer
Higurashi
is one of my favorite animes of all time, and I always wanted to play the VNs, but the original artwork was really off-putting. Honestly, good on 07th Expansion for creating such an amazing horror story that it's become as iconic as it is, given how it was originally a doujin work with questionable artwork.
Higurashi
is set in the 80s and follows Keiichi, who recently moved to the small town of Hinamizawa with his parents. During his time there, he's been welcomed into a group of friends but slowly starts learning some of the town's darkest secrets that they don't want anyone else to know about.
I think I'm done with all the question arcs, but I'll keep adding onto this as I play more of the chapters. Most recently, I really enjoyed chapter 3, although it's not as gripping as the first two (despite the fact that I already know what's going to happen in all of them). I disliked Satoko in the anime but I think her personality shines a lot more in the VN. I will say though, I think it's fucked that MangaGamer included some lowkey spoilers in the credits of Chapter 3 (so do NOT read the credits if it's your first time experiencing the story)!
I definitely wouldn't recommend
Higurashi
to people who are new to visual novels, because the first few hours of each chapter can be kind of mundane and hard to get through, as the tone is completely different from the rest of the story. I think it's interesting that 07th Expansion was influenced by Key's structure in their games, namely Kanon, where you spend daily life with the characters so you're invested in them before shit really starts going down. I like how they took that structure and applied it to a completely different genre (dating sims vs. horror).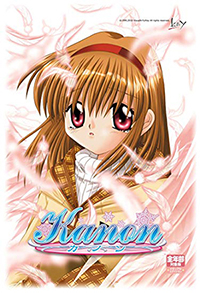 Kanon
by Key/Visual Arts (no official translation)
Out of all of Key's works,
Kanon
has a special place in my heart and is my favorite. The best way to describe it is "sad girls in snow" with some magical/fairytale elements. As a child, his protag used to spend time at his cousin's house in another city, and is now staying with her for the rest of his time in high school. The problem is that he can't seem to remember anything from his time there as a child. As he gets to know the girls (there are 5 in total, although a side character does have her own mini-route) his memories slowly start to come back to him.
Kanon
is yet another game I got into from watching the anime (done by Kyoto Animation, which was absolutely beautiful). Unfortunately, I was only able to finish Nayuki's, Shiori's, and Mai's routes before the game decided to stop working on my laptop one day. I'm glad I got to finish Nayuki's route before then, because she really got shafted in the anime. Her route was really sad and relatable. I also really love Mai's route for those reasons as well. Kanon has some amazing music;
Last regrets
,
Shoujo no Ori
, and
Kaze o matta hi
really stand out on the soundtrack for me.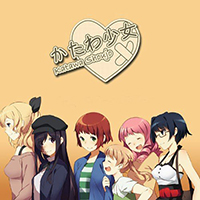 Katawa Shoujo
by Four Leaf Studios
I'm pretty sure that
Katawa Shoujo
was the first VN/dating sim I ever played in its entirety, like many other people who got into the genre around that time. The premise is that the protagonist was recently diagnosed with a heart condition and is now attending a school for disabled children and teens. Once there, there are 5 girls who are available to date, each with their own disability and story. For a game that allows you to date disabled girls and is developed by 4chan,
Katawa Shoujo
is surprisingly well-written, sensitive, emotional, and wholesome. It's actually inspired many players to do significant work with disabled individuals and organizations in real life. Overall, it's one of my favorite visual novels because it really helped me dive deep into the genre. I think Lilly's route is the best for beginners, and while Shizune's my favorite character, her route is really underwhelming.

Lilycle Rainbow Stage!!!
by Particle, published by MangaGamer
Does this not look like the cutest game ever? I finally finished playing it, after several months, which is sad because it's actually a pretty short game. It's really sweet and cozy so sometimes it made me kind of sleepy.
Lilycle
is a yuri dating sim that follows a lot of couples, which can be overwhelming, but they're all cute and different from each other so it's not too hard to get invested in them. It's very different from other visual novels in that there's even less gameplay - instead of going through a story or routes, you click on "events" on a big calendar. What was tricky was unlocking all of the CGs, because even though there are very few actual choices in the game, they really do matter so I accidentally missed a few routes. It's not a very popular game so I eventually had to find a walkthrough, which was only available in Japanese, and use Google Translate to try to decipher what I missed so I could unlock everything. Unlike a lot of the dating sims I like to play,
Lilycle
is pretty lighthearted and doesn't get too emotional, so I think it's a good palate cleanser to play in-between games.
Screenshot 1
|
Screenshot 2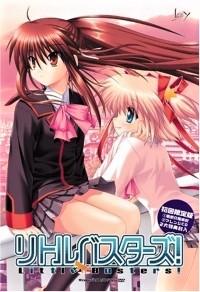 Little Busters!
by Key/Visual Arts, published by Visual Arts
Routes completed:
Rin (pre-Refrain), Mio, Komari, and Yuiko so far
I AM FINALLY getting around to playing this game. I kept meaning to play it before it officially got translated, then I was going to watch the anime, then I actually bought the official EN version on Steam a year or two ago, and forgot about it again. I'm really liking it so far, but it's by Key and I'll take anything they give me honestly. I do like that the protag has a group of childhood friends and the minigames are a pretty fun way to feel more immersed. I'm already stanning Rin because she's silly and likes cats, which is relatable.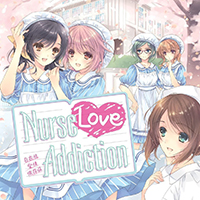 Nurse Love Addiction
by Kogado Studio, published by Degica
Before
Doki Doki Literature Club
, there was
Nurse Love Addiction
. I really love
DDLC
and the concept behind it, but
Nurse Love Addiction
was the first dating sim I played that really went down a dark road. You play as a girl training to be a nurse and pursue 4 other girls (1 is your sister and 1 is your teacher, which are both yikes but that's another story). The art is beautiful and the soundtrack is super calming. Without saying too much, looks are really deceiving in this game and you'll eventually understand why it received the "psychological trauma" tag on Steam. The prequel,
Nurse Love Syndrome
, was recently released on Steam as well and I can't wait to pick it up in the next sale.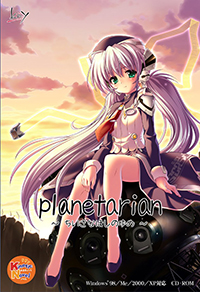 Planetarian ~The Reverie of a Little Planet~
by Key/Visual Arts, published by Sekai Project
While
Planterian
isn't as well-known as some of Key's other works (such as AIR, CLANNAD, Angel Beats!, etc.) I think it's a great visual novel to start with for someone who's never played them before. It's actually a kinetic novel, which means that the player doesn't make any choices, so it's basically a short book with pictures, voice, and music. It takes place in a post-apocalyptic world where the protagonist cannot find any other humans except for an advanced, human-like robot who minds a planetarium in a department store. Her dedication to the store and the planterium is absolutely precious, as well as her kindness towards the protag. Overall, it has everything I love by Key: well-written and memorable characters, an interesting setting, and tons of feels. There's also a really good anime adaptation.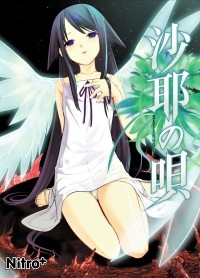 Saya no Uta
by Nitroplus, published by JAST USA
I'm sure everyone knows by now that
Saya no Uta
is incredibly fucked up and I believe sort of a rite of passage for VN fans at this point. I knew this, and yet I still felt unprepared for how intense it was when I actually played it. I went into the game completely blind and didn't know anything about it, aside from playing as Saya a few times in Nitroplus Blasterz.
Saya no Uta
is every bit as disturbing as everyone makes it out to be, but it's also probably one of the best VNs I've played. Considering how short it is, the characters have real depth to them and the story itself feels very complete and satisfying. However I wouldn't necessarily recommend it to anyone unless they're VERY into the horror genre.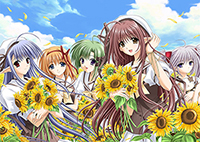 Shuffle!
by Navel, published by YumeHaven
I bought
Shuffle!
from a Steam sale a couple of years ago because it's such a classic, but I only just recently got around to playing it. Honestly, it's very much a product of its time (as if you couldn't tell from the character designs alone). The protagonist lives in a world where humans, gods, and demons are able to all exist peacefully and attend school together. However, because it's pretty much a slice of life game with some lore peppered in, it's pretty easy to forget about. I kind of would have liked more world-building but it is what it is. What kickstarts the story is that the heirs of the king of gods and the king of demons have both transferred into the protag's class and are pretty much both trying to marry him, because of course they are.
Shuffle!
is really cute and I like that the routes are short, although sometimes it felt like the story is going too quickly or missing a few scenes. My favorite routes were Nerine's and Sia's, especially since the ending of Sia's really hit me in the feels. I won't spoil it but you actually have to play her route twice in order to complete it and the last CG is just so sweet and satisfying after everything you've gone through with her.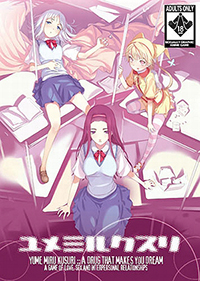 Yume Miru Kusuri
by Rúf, published by Peach Princess
As far as dating sims go,
Yume Miru Kusuri
(A Drug That Makes You Dream) is hands down my absolute favorite. What really sets it apart is that each of the three routes examine different parts of Japanese society: bullying, interpersonal relationships, and drugs. Aeka's route (bullying) is probably the best one to start with because it's very well-paced and shows you how dark this game can get. Nekoko, a catgirl who asks the protag for help in trying to find a fairy kingdom, is my favorite character, although I can't talk about her route too much without spoiling it. Even though
Yume Miru Kusuri
is very much intended for a Japanese audience, it's still accessible because it's just so well-written. I love the dream-like atmosphere and how it isn't scared to do some pretty messed up things you wouldn't expect to see in a dating sim.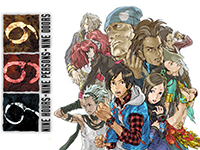 Zero Escape: Nine Hours, Nine Persons, Nine Doors (999)
by Spike Chunsoft, published by Aksys Games
One of the main reasons why I love VNs is because I'm absolutely horrible at gameplay. But several of my friends recommended
999
to me, which is a puzzle game/visual novel. Thankfully I was able to get through a good portion of it with a walkthrough.
999
follows a group of nine people who have been kidnapped and trapped on a ship that will sink in 9 hours if they can't solve the puzzles and find a door with a "9" painted on it, which will lead them to freedom. It takes no time at all to throw you into the story and basically keeps that pace up for the entire game. There are several different routes and endings, and in order to fully understand the story, you really should complete all of them. Although
999
was originally released on the Nintendo DS, it was recently ported to PC/PS4 with remastered sprites and all-new voice acting. I tried playing it on the DS but it hurt my eyes, plus there was no way to keep multiple save files (which is a must for visual novels imo). While the PC/PS4 port removes some story elements that rely on the DS's double screens, I think it's worth it for the convenience of multiple save files so you don't have to go back and replay the game every time you want to do another route.

More to come!